Hockey Playoff Quotes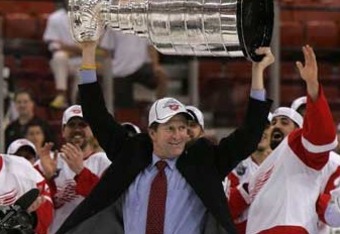 Red Wings Coach Mike Babcock:
"There is something about Game 7 that there's a memory there for you for sure. You want to be a coach or a manager or a player or a goaltender that gets it done, because to me, that's all part of sports. That's what you dream about when you're a little kid -- scoring the winning goal."
Montreal's Saku Koivu
, who spent most of the season undergoing radiation treatment for cancer before returning for the playoffs and growing a playoff beard.
"I didn't have any hair anywhere for almost seven months. So now finally I've got some hair, I'm gonna keep it."
Toronto Maple Leaf's Dimitri Yushkevich
with his bleached blond hair pondering the idea of dying it blue for the playoffs:
"Maybe I'm hanging around with Dennis Rodman to much."
Bruins General Manager Harry Sinden
after his team was eliminated from the playoffs:
"The remedy, right now, is two scotches and an aspirin, I think."
Chris Osgood:
"I don't doubt myself ever, but people that don't know me do. I've been playing for 15 years, and have the most playoffs wins in Wings history for a reason, and not because I'm a bad goalie."
Steve Rushin:
"By the age of 18, the average American has witnessed 200,000 acts of violence on television, most of them occurring during Game One of the NHL playoff series."
After a pregame warmups scuffle in the 1999 Playofs broke out between New Jersey Devil Lyle Odelein and
Matthew Barnaby of the Pittsburgh Penguins
, Barnaby had this to say about Odelein:
"Cornelius, as we like to call him, gets under your skin. Planet of the Apes. Look at him. Seriously. He looks like Cornelious."
Odelein
responded by saying:
"He should take a look at his wife. She's God-awful to look at."
Terry Jones, columnist of the Edmonton Sun
commenting on the play of Oilers goalie Tommy "Wild Thing" Salo in the playoff opener,
"Wild Thing made their hearts sing. But he couldn't top everything."